IN-HOUSE PRESSING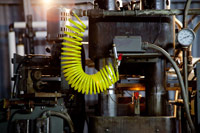 Most of the vinyl pressing web sites are brokers sending your project to be pressed at one of the very few large pressing plants left operating in the world. Capsule Labs is a true vinyl presser, while we outsource the electroplating and the printing of labels and jackets, everything else is handled in house, from the mastering and cutting of lacquers, to the pressing and packaging, where we can control the quality and customize the process.
100% VIRGIN VINYL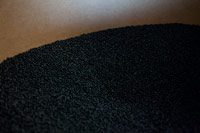 Record manufacturing creates excess vinyl which gets trimmed off the edge. Almost every pressing plant regrinds this vinyl and mixes it in with virgin vinyl in their production chain. If not done properly, this introduces foreign elements in the vinyl (fluff) which ends up affecting the quality. We only use 100% virgin vinyl at Capsule Labs and collaborate with local artists to recycle our excess vinyl into art instead.
AUDIOPHILE QUALITY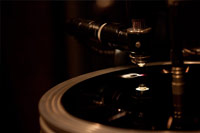 We take great care in cutting master lacquers and use the best electroplating available in the USA at Record Technology for superior sounding records. Pressings are also available in audiophile 180g heavyweight.