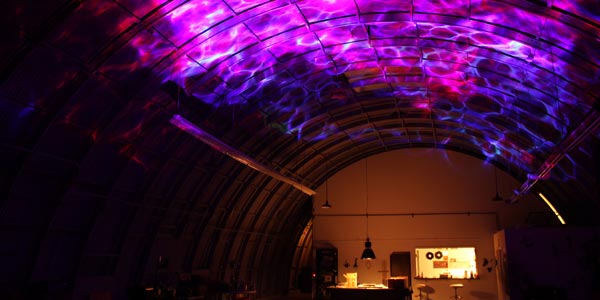 FRIDAY JANUARY 21, 2011 - 8pm until midnight - Free show, 21 & over.
You must RSVP to event@capsulelabs.com your first and last name to attend.
2415 EADS ST. LOS ANGELES, CA 90031.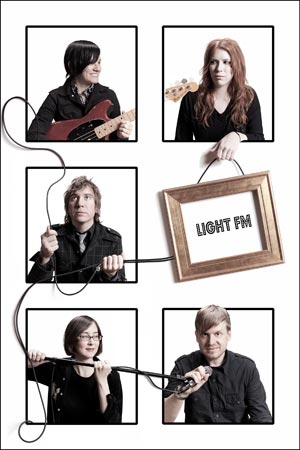 You may have heard Josiah Mazzaschi's voice on TV and not even known it. He and his band Light FM are in the background of some of your favorite guilty pleasures; Gossip Girl, The Hills, How I Met Your Mother, One Tree Hill, Jersey Shore and The City to name a few. Clearly, music supervisors love his cool, relentlessly catchy, indie pop songs. Josiah can't help it. It's what he does.
While he may write the tunes, Josiah counts on his ace group of talented musicians to blow-out your ears when they play. Light FM combines catchy hooks, disarmingly heart-felt lyrics with guitar riffs that are distorted to precision to form a unique and all encompassing sound that seems instantly familiar. The unpredictable arrangements, bleepy-bloopy synths and off kilter drums make perfect sense. The guys and gals in the band aren't exactly hard to look at either.
Coming from Chicago where he and his band were consistent local favorites in the summer of 2005, Josiah dove into LA's burgeoning Silverlake music scene. Between the sunny weather, the huge talent pool and myriad outlets for his music he knew he had arrived where he needed to be. He quickly found himself working as a studio engineer and producer at some of the city's premier recording studios. After 2 short years he found himself so sought after that he founded his own studio called the Cave. Josiah produces all of Light FM's recordings at the Cave.
After the self-release of Light FM's third full-length album, "Let There Be Light FM," the group had enough buzz to be asked to open for Ra Ra Riot, Earlimart, Billy Corgan, Grandaddy, and many more. They also headlined packed residencies at Spaceland and the Silverlake Lounge.
Currently Light FM is a five piece with Nicki Nevlin on bass, Jimmy Lucido on drums, Jen Whittenburg on guitar/vocals and Michelle Reeves on keyboards. They are playing SXSW this March and have a new full-length album to be released later this year in the can. They will be touring in support of the album tentatively titled, "Buzz Kill City". Look for Light FM coming to your town later this year.
Instrumentation: Josiah Mazzaschi - Lead Vocal & Guitar, James Lucido - Drums, Michelle Reeves - keyboard, & Vocals, Nicki Nevlin - Bass, Jen Whittenburg - guitar & backup vocals, Guitar.
Video:
http://www.youtube.com/user/lightfm
Listen:
http://www.facebook.com/home.php#!/lightfm
http://www.myspace.com/lightfm
http://www.twitter.com/lightfm
http://www.reverbnation.com/lightfm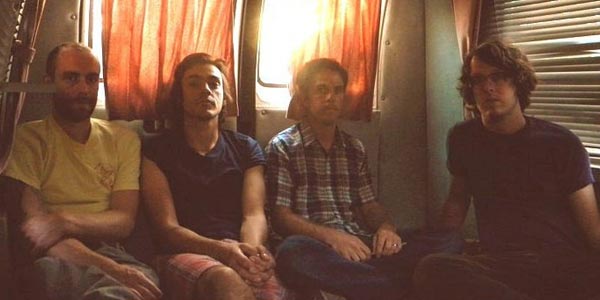 Starving Daughters' sound is full of rich textures and rhythmic waves that take you on a mental journey. The band locks into tight grooves full of frenetic drumming, pulsing bass lines, buzzy guitar riffs, and ethereal vocals that all work together to entrance their audience. Just when the listener's mind is lost in space, songs take an artful turn, sometimes waking the listener up to a breakdown that the head can't help but nod to, while other times sending you to sonic realms swimming in psychedelic melodies. Equal parts My Bloody Valentine, Pink Floyd, and the memories of an acid trip, they display their chops with pounding fills, rumbling bass lines, and wailing guitar passages. However, they are equally gifted at song craft that stirs the soul; makes the listener feel. Seeing the band live communicates the band feels the song as the listeners do, viscerally.
Formed in 2006 in Pomona, Starving Daughters is Chris Tillotson (guitar/vocals), Mason Owen (drums/vocals), Jack Hutchings (guitar), and Chris Holder (bass). Holder and Tillotson met and played together in the early 2000's. In 2004-2005, Tillotson and Hutchings played in a different band called Thin. Hutchings met Owen while bagging groceries, and Holder joined up shortly thereafter. The band put out it's first EP, Such Buds, in 2007 on the Portland based label Tender Loving Empire. The five song EP, which had a strong 90's indie influence and dabblings in classic rock, was self recorded by Chris Tillotson with contributions from the other members.In the summer of 2010, The band released their first full length Chill Birth, which expanded their sonic palate as well as their tendencies for dark rock exploration. They are currently working on their yet untitled follow-up due out summer of 2011, which will push their musical boundaries even further into the reaches of the galaxy.
Video:
http://www.youtube.com/watch?v=Tti0eXVG8w0
http://www.youtube.com/watch?v=SDruiN0A1oc
Listen:
http://www.myspace.com/starvingdaughters
http://www.facebook.com/pages/Starving-Daughters/75745385490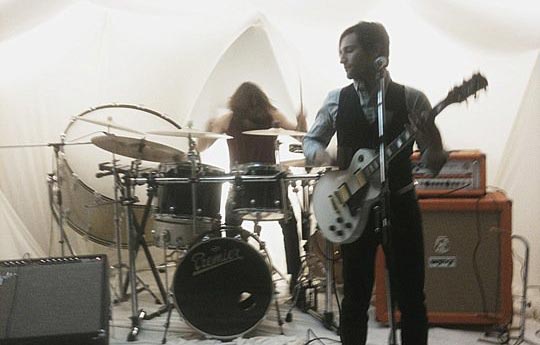 Eating Faces are children of rock n' roll but unique for their classically influenced composition, atypical rhythmic structures, and experimental, progressive sounds. The band of only three members creates a captivating and full cinematic sound.
The subtleties of Eating Faces' compositions and the nuances of their style is controlled and epic; it is music for music lovers. Varying in pace and never stagnant each movement flows from one continuous composition to the next with unique and alluring transitions. The combination of a powerful sound and a charismatic performance that evokes an emotional response, encouraging imagination like a cinematic score.
Listening/Video Links:
http://www.facebook.com/eatingfaces
http://www.last.fm/music/Eating+Faces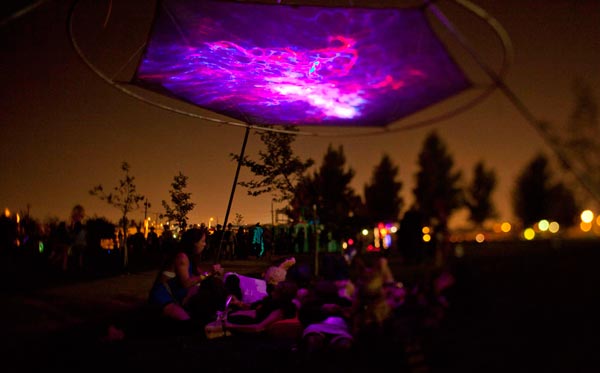 Unique interactive laser projections and illuminations. The slowly morphing textures are purely 'analog', the result of carefully crafted optical components. Unlike in traditional video projection, the images are not prepared in advance, nor are they the result of any rendering techniques.
Capsule Labs is a boutique recording, mastering and vinyl record pressing facility located in Los Angeles. We specialize in high-quality analog mastering, direct-to-disc recording as well as custom vinyl record manufacturing for independents.